Journal Entry:
Fri Feb 3, 2012, 5:21 PM

Many students are beginning to prepare for
Valentine's Day!
~
It's common for students to give gifts to their admirers and friends chocolates, candies, flowers, and other such gifts on Valentine's Day. Hoshizora High will be helping out the students prepare for the lovely holiday. In addition to the extra help, there will be a special activity for students to participate in during the time of Valentine's day.


The Maze Event

+ In the empty school grounds, the school will be setting up a huge Valentine's Day maze. The maze will consist of multiple entrances which people can enter and 'race' to the end. If a pair is going through the maze up against another pair, both must tie their ankles together and go race through in a 'three legged race' style. It's quite easy to get lost in the maze though, so watch out!

-In the middle of the maze, there is a tiny garden area.
-At the end of the maze there is a tiny heart-themed cafe for students to sit at and order a drink after completing such a tough maze.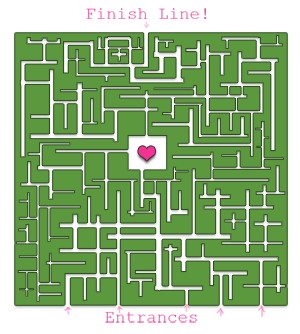 Here is a little graphic for you to get an idea of what the maze is like!

*In addition to the maze...

+The cooking club will be opening their kitchen for students who would like to bake their own chocolate. You are allowed to use their utilities, however, you must purchase your own ingredients!

+The art room will also open their doors for those who would like to use their crafting tools to create Valentine's cards. They ask that you provide yourself with your own paper and supplies.

+Student council members will also be selling roses for students to send to others. You may stop by the student council room and purchase individual roses with an attached card for an admirer. They may be sent anonymously sent to the admirer's dorm room if you prefer that.

+The roof top garden will be decked with lights and Valentine's Day themed decor under the starry sky.


Have a happy Valentine's day!


Watch